Alberta Excavation Sevices
Bear Excavating has the equipment to complete your excavation project from start to finish

H2S Certified
Alberta Certified Septic System Installer

---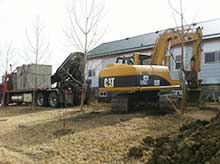 Acreage Development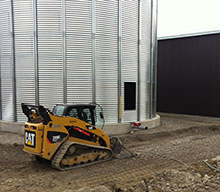 Pads for Grain Bins
Residential excavation
Excavation professionals are the first on site after all surveys have been completed and a project is ready to commence. Onsite excavation allows us to dig deep into a surface, so that the footings can be laid to start the building process, as well as laying pipes and other materials for water, sewer and electrical equipment. You can be assured that we have the experience and equipment to work with your site conditions and plans to ensure the building process is started off on the right track. Keeping your project on time and on budget is of great importance to us.
Digging the basement
Trenches for the utilities
Backfills / clean up - putting dirt back and smoothing out top soil
Commercial excavation
Bear Excavating has extensive experience dealing with commercial excavation projects. We have a large range of equipment available to suit both large and small projects. All machines are piloted by experienced operators with thousands of hours behind the controls. We are committed to site safety and strive to ensure the safety of all operators and persons around the site.
Preparing the pads for the buildings
Prep for paving or landscaping
Trenches for the utilities
Backfills / clean up - putting dirt back and smoothing out top soil
Oil patch services
Building roads to the site
Preparing the pad for the site
Snow removal in winter